By TrailTurtle @ October 7, 2011 at 5:29pm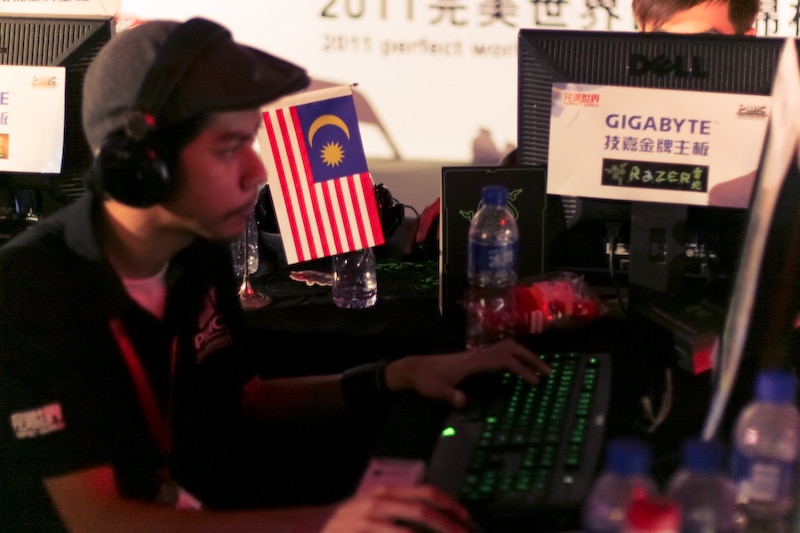 Yours truly just did an interview with Gurg, the captain of our Perfect World International Championship team and the reigning king of truth, justice, and the Jade Dynasty way.
As team captain, Gurg helped lead our team to a 2nd-place finish, winning an upset over Japan in the first round, then crushing Russia in the second round by a score of 222 to 65. The team finally lost to China in the finals.
Gurg got the chance to go to China and have the full PWIC experience, giving interviews for the Zhu Xian audience, going out on the town with the Wanmei crew, and fighting it out onstage during the finals. He's got some great stories and shared an interesting look at PvP.
Read on, disciple…
TrailTurtle: [While you were there,] I imagine you went to some authentically Chinese places.
Gurg: Yep. Indeed.
TrailTurtle: What was the craziest thing that you ate?
Gurg: It's… I don't know what it's called, it's some kind of… it looks like a mud.
Seriously, it looks like a mud. It's green, it tastes kinda, I can't remember the taste actually… I think it's some kind of intestines or something… It's pretty common in my country too to eat goat's inside stuff, making it a kabob or something…
TrailTurtle: Guts should not look like mud.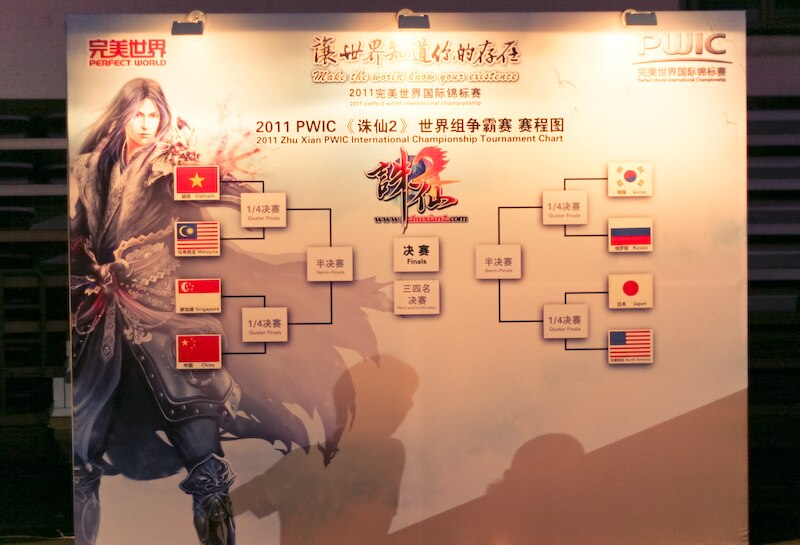 The bracket for PWIC.
TrailTurtle: How do you feel about the performance? I know that this is a step up from last year, and it sounds like even though there were some difficulties in the early stages, it really seems like you guys came out swinging.
Gurg: Yep, pretty much. … last year we didn't have any issues before the matches, right, there was no debate on who should go, who should not, who caused trouble, and who didn't. But this year, even before the match there were a lot of fires going on, between the players, and also to [the Product Manager] and to [the Community Manager] too. It was really hectic, even before the match.
And seeing how we performed, actually, I think the trolling, the trash-talking in the Google group itself, it united us to actually work together. We were compiled from a lot of players and different servers, right? Seeing how we performed, I'm very proud of what we did. I personally didn't expect that we can do that good. People listen to commands, calling targets and stuff, we basically united.
For us, it's a lesson that even the strongest players on our official servers, that think they are good, when they're put in same equal gear, same equal status – it's all about team work, no longer solo warrior stuff.
That is what I get about our performance, and overall performance.
TrailTurtle: What do you think, then, was your biggest strength against China? …
I think what we did bring was our willingness to cooperate. … In terms of PvP, teamwork, I think we did better. Especially teamwork, because I pretty much yelled a lot on the arena itself, I was yelling "SOP 2 is up, stack on top of Gurg, stack on top of Gurg!"
The first few minutes of the match, we were leading for like around 8 or 10 points, but then some kind of skill dropped on us, and it blew our defense. So after that, the team got panicked a bit, everyone got silent, no one's calling targets. I had to actually yell at them again, "Break out, break out, and then move to another side!"
But basically they already know what we are trying to do, so they already have the countermeasure for it. Then again, after a few minutes' work, we decided, "Okay, this is not working, so let's go try something else."
So we did that, we basically tried to flank them with all the skills that we have – and I think we did pretty fine. The score wasn't really that good, but we were trying hard to keep it close. Not really got too frustrated like other teams when they fight against China.
[Gurg, talking about Zhu Xian's popularity]
… I got interviewed on the radio, right, on the online radio for the ZhuXian2.com. When I got asked to be interviewed, I was like, Okay, it's fine, I'll just talk like this, nothing. I didn't get really nervous or something.
And then they said, You know you're being heard by like 20k people. Whahh? 20k people listen to the online radio while playing the game? Wow.
[Editor's note: the radio gets 45,000 listeners per day.]
I never imagined that a game could be so – it's almost like a social status. Just wearing the PWIC shirt and walking everywhere, people ask "You guys from Wanmei office? … Oh, wow." It's almost like a celebrity.
TrailTurtle: What's your faction and Affinity?
Gurg: My faction is Celan – LV 149 Ascended Celan Fuwa. A minority class … it's like the last-played faction of all.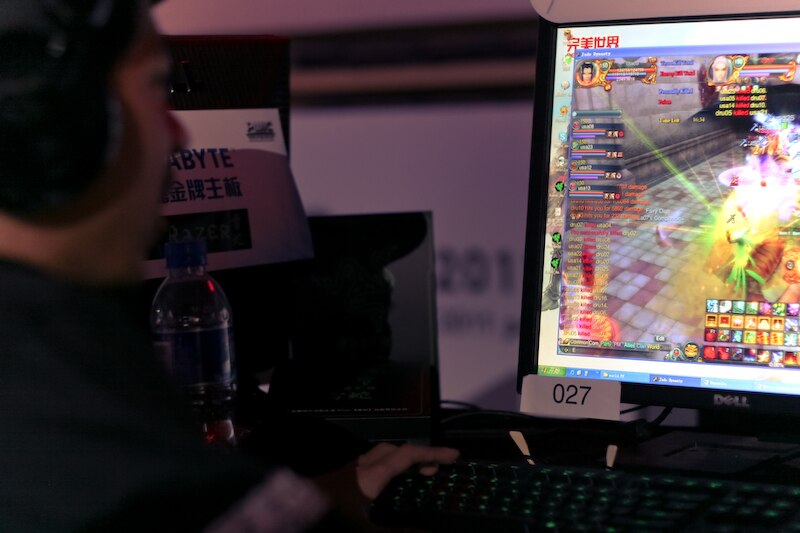 Gurg getting a rare kill with his Celan at PWIC against Russia. He was usually supporting allies.
But it is fun. Seeing how Celans actually have a role in the world PvP tournament itself, the minority class actually shown that they are like one of the most useful class. Let's say that the world PvP tournament is the endgame, the endgame of Jade Dynasty, with equal gears, maxed-out stuff, then the Celan itself plays the part. Basically I don't have to kill anyone, because what I have to do is keeping my aura alive, keeping my teammates alive with my aura on. My teammates will be alive.
… I'm kind of sad though. On official US server, it's like "I want to be ownage, I want to be ownage, I want to be able to kill anyone that comes in front of my face." But that is what I don't see in the world PvP tournament itself, because endgame, no class is actually useful by himself. Everybody to be in a team, everybody has to work together…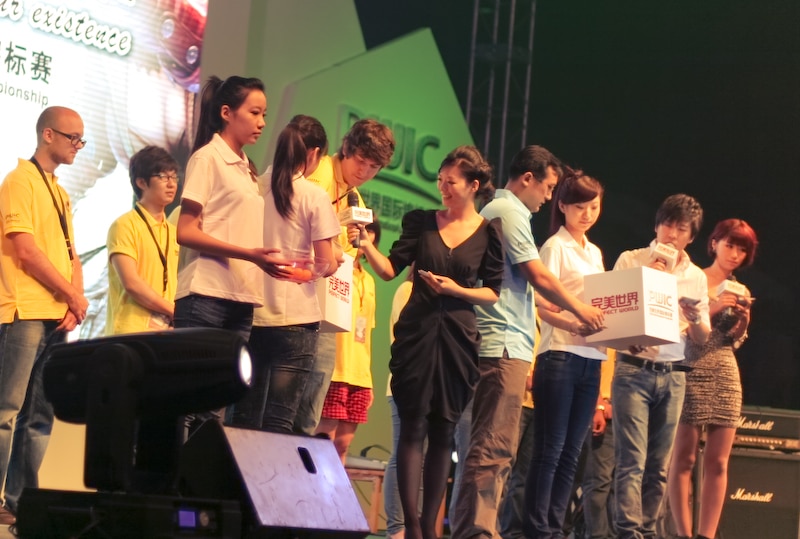 A PWE representative draws our team's seedings to set up the PWIC bracket.
TrailTurtle: Is there anything else that you'd like to say at the end? Any final comments?
Gurg: … I personally would like to thank PWE for giving me the chance to representing the team to China, giving me the opportunity to learn a lot about the game itself and how it connects with the company itself, how the game runs, how everything runs – that's basically it.
For the game itself, for the players out there… well, no matter how much bugs, how much issues that comes in game, it will be fixed. The guys are working on it, and I know that, so – just keep on playing. It's a fun game. It's not like you have to sit on the game like 24 hours because it's a botting game of course, but yeah – just keep on playing.
TrailTurtle: … Thank you very much for this interview.
Gurg: Thank you.